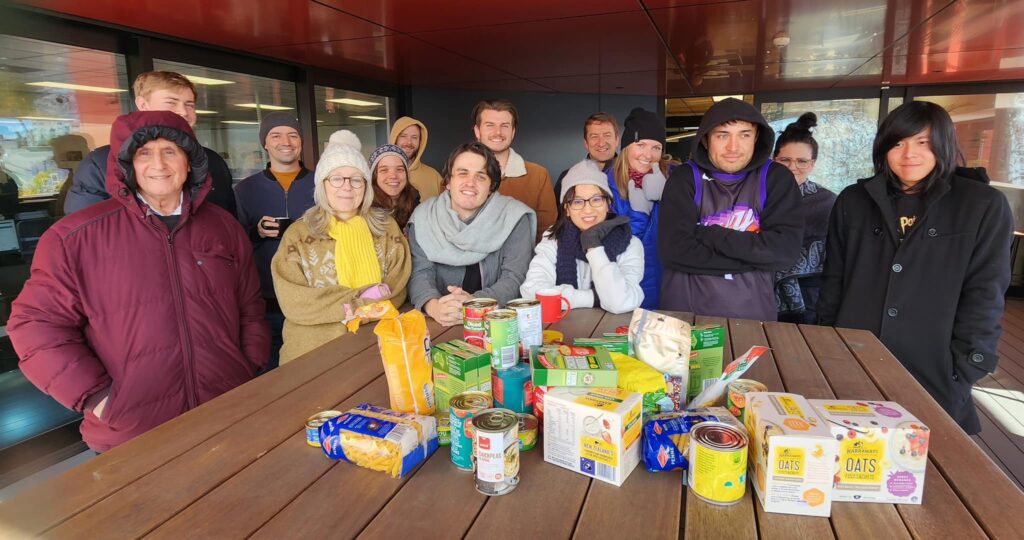 Results for Share the Warmth
Thank you for helping us Share the Warmth across the BOP this winter!
Our "Share the Warmth" campaign has successfully raised $5,274 to support our Firewood Depot operations. This is a great start to an annual event, which involves teams from across the city dressing up and collecting food to assist in warming people's homes, tummies and hearts. Rising living costs, including mortgage rates, have led to an increased demand for food assistance. Thanks to our sponsors: Synergy Technologies, Baker Tilly, and Mount Hot Pools.
This has been the eighth year that volunteers and sponsors have come together to fuel this arm of Good Neighbour's wider community projects. Forestry logs that are damaged or not suitable for export from Port of Tauranga are collected – free of charge by Taylor Bros Transport – just one of many corporate sponsors who donate their services to the cause.
Transported to the Good Neighbour depot, volunteers then come each week to process the logs and stack the wood ready for loading.
Beneficiaries come via referral from other agencies within Good Neighbour's wider network. Each family receives two cubic metres of logs, cut to size and dry.
In what is deemed a 'hand up, not a hand out' process, people who receive firewood are encouraged to go to the depot to fill their own vehicle and trailer and the following load behind them. Many return to help fill more loads. Volunteers have things down to a fine art and within three hours, up to 20 loads can be handed out. Living up to the 'good neighbour' mantra, these Saturday sessions are filled with camaraderie and support – barbecue lunches on the menu afterwards for a job well done.
Requests have been steadily building since February, but behind the scenes, Taylor Bros
Transport and another sponsor Opendoors NZ have been doing their bit. Opendoors use off cuts from their joinery business and bag them into kindling. Five bags are handed out with every load of firewood – a win-win for Opendoors; and another saving for recipients.
Like all Good Neighbour projects, the firewood drive looks set to equal its output from last year. In 2022, 161 families received firewood. This related to 500 cubic metres of wood, with a retail value of $55,000 and involving 1267 hours of volunteer help.
The spin-off brings even more win-win plaudits all round, however. Collaboration is key to success and to share the resources on hand. Vertical Horizons offer all sorts of training and use our depot and logs to help get people qualified in operating chainsaw's safely. Safety doesn't stop there, though.
Thanks to Good Neighbour's partnership with the Fire Brigade, families receiving firewood can also receive a visit from fire fighters to install free smoke alarms. This has been particularly beneficial – as the homes the Fire Brigade visit are families they might not otherwise see in its own drive to impart the importance of smoke alarms in homes.
With Good Neighbour, warmth isn't just in the firewood; it's in the hearts of everyone involved. We're already looking forward to next year's edition of this event.