Share the warmth
"Creating warm and healthy homes for whānau."

Firewood
The Firewood team collects, processes and delivers hundreds of m³ of dry, low-cost firewood every year. We partner with individuals, local organisations, sports teams and businesses to create warm and healthy homes for whānau.
Keeping homes warm and healthy is important when it comes to maintaining good health during winter. By providing firewood, Good Neighbour is lowering the barrier for people to have a warm home as New Zealand's heating is expensive and is 30% of an average household budget.
How does it work?
Good Neighbour receives logs that are damaged or not suitable for export from the Port of Tauranga. Thanks to Taylor Bros Transport these logs are then transported to our depot for processing. We also receive wood from local arborists. Families are also given free bags of kiln dried offcuts thanks to Open Doors   to use as kindling wood.
Volunteers come together at our firewood depot each week to process the donated logs using modern equipment and systems to process wood in bulk to give to the community.
People who receive firewood are encouraged to fill their own vehicle and the vehicle of the person behind them. Afterward, the volunteers and families end with a barbecue lunch.
Additionally, we are able to offer families the opportunity to keep safe in their homes with free smoke alarms thanks to a partnership with the local fire brigade.
How to apply for firewood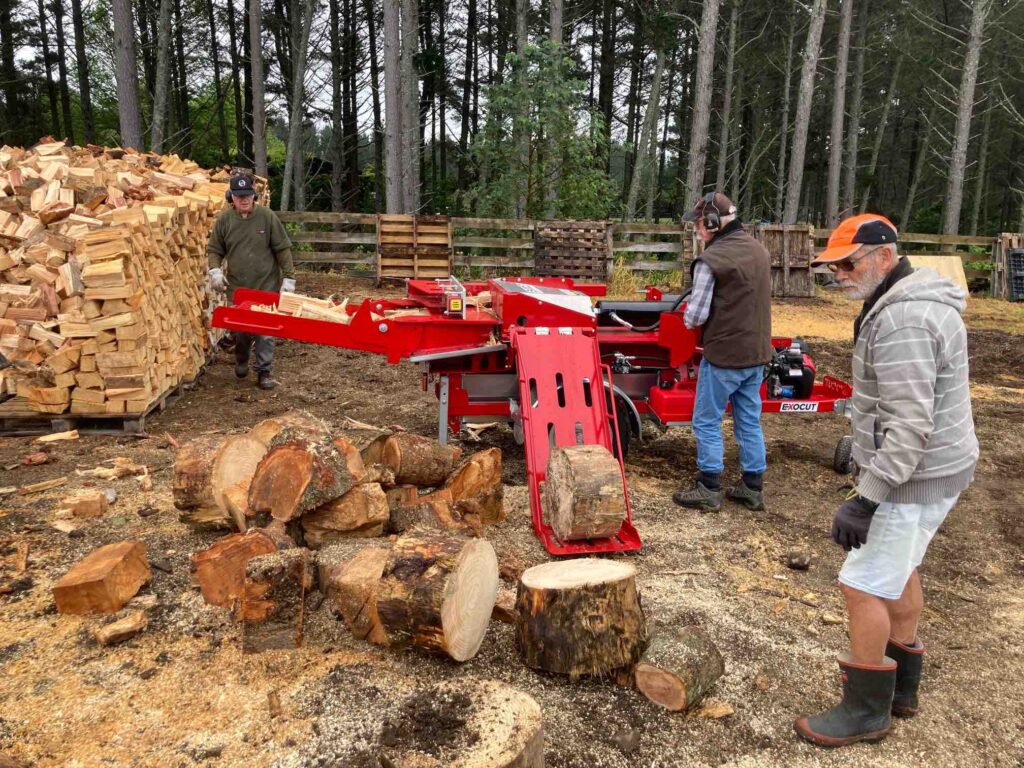 Sponsor a load of firewood for a family in need
0
Volunteer hours per year
$
0
Retail value for firewood
Our community partners for firewood
Accessible Properties
St Vincent de Paul
Tauranga Living without Violence
Lifezone Church
Salvation Army
CAP
St Peters House
Te Manu Toroa
Asperger's Connections
TCHT
Merivale Community Centre
Pacific Island Community Trust
Elim
Whaioranga Trust
People's Project
Age Concern
Autism NZ
Plunket Family Start
Stand for Children
Pirirakau Hauora
Sustainability Options
Waipu Hauora
Mockingbird
Our firewood sponsors
We would like to acknowledge and applaud those who support our firewood operations. Without their generosity we would not be able to transport and process the logs we give to families.
The feedback we receive about our work really makes it worthwhile. Here are some examples:
"Felt really good to get out of the house with the kids and do something for the day."
"My house is warm and just the pleasant interactions when I'm having a lot of crap. A smiley guy being friendly, and it mattered, my whole situation was taken into account. He'll never know what it meant to me on that day".
"Like a well-oiled machine, nothing went wrong, and everyone pulled together. I'm definitely happy and grateful for me, and the whole community."
"As a family we contributed to others and ourselves and got to talk about giving and receiving, we are now able to work better as a household."
"You go home with a sense of purpose and knowing that you helped others. It was an awesome feeling."
The Firewood team collects, processes and delivers hundreds of m³ of dry, low-cost firewood every year. We partner with individuals, local organisations, sports teams and businesses to create warm and healthy homes for whānau.

Keeping homes warm and healthy is important when it comes to maintaining good health during winter. By providing firewood, Good Neighbour is lowering the barrier for people to have a warm home as New Zealand's heating is expensive and is 30% of an average household budget.

How does it work?

Good Neighbour receives logs that are damaged or not suitable for export from the Port of Tauranga. Thanks to Taylor Bros Transport these logs are then transported to our depot for processing. We also receive wood from local arborists. Families are also given free bags of kiln dried offcuts thanks to Open Doors   to use as kindling wood.
Volunteers come together at our firewood depot each week to process the donated logs using modern equipment and systems to process wood in bulk to give to the community.
People who receive firewood are encouraged to fill their own vehicle and the vehicle of the person behind them. Afterward, the volunteers and families end with a barbecue lunch.

Additionally, we are able to offer families the opportunity to keep safe in their homes with free smoke alarms thanks to a partnership with the local fire brigade.

How to apply for firewood

Sponsor a load of firewood for a family in need

0

Volunteer hours per year

$

0

Retail value for firewood

Our community partners for firewood

Accessible Properties
St Vincent de Paul
Tauranga Living without Violence
Lifezone Church
Salvation Army
CAP
St Peters House
Te Manu Toroa

Asperger's Connections
TCHT
Merivale Community Centre
Pacific Island Community Trust
Elim
Whaioranga Trust
People's Project
Age Concern

Autism NZ
Plunket Family Start
Stand for Children
Pirirakau Hauora
Sustainability Options
Waipu Hauora
Mockingbird

Our firewood sponsors

We would like to acknowledge and applaud those who support our firewood operations. Without their generosity we would not be able to transport and process the logs we give to families.

The feedback we receive about our work really makes it worthwhile. Here are some examples:

"Felt really good to get out of the house with the kids and do something for the day."

"My house is warm and just the pleasant interactions when I'm having a lot of crap. A smiley guy being friendly, and it mattered, my whole situation was taken into account. He'll never know what it meant to me on that day".

"Like a well-oiled machine, nothing went wrong, and everyone pulled together. I'm definitely happy and grateful for me, and the whole community."

"As a family we contributed to others and ourselves and got to talk about giving and receiving, we are now able to work better as a household."

"You go home with a sense of purpose and knowing that you helped others. It was an awesome feeling."